So excited to be featuring my work in two shows in Paris this month! The art in both shows are digital shows in gallery spaces and are available as NFTs (prints may come later - let me know if you have interest).
The NFT Factory Show featured Carnival Daze which is a 17 second video of one of my goddesses that morphs into a Carnival Queen.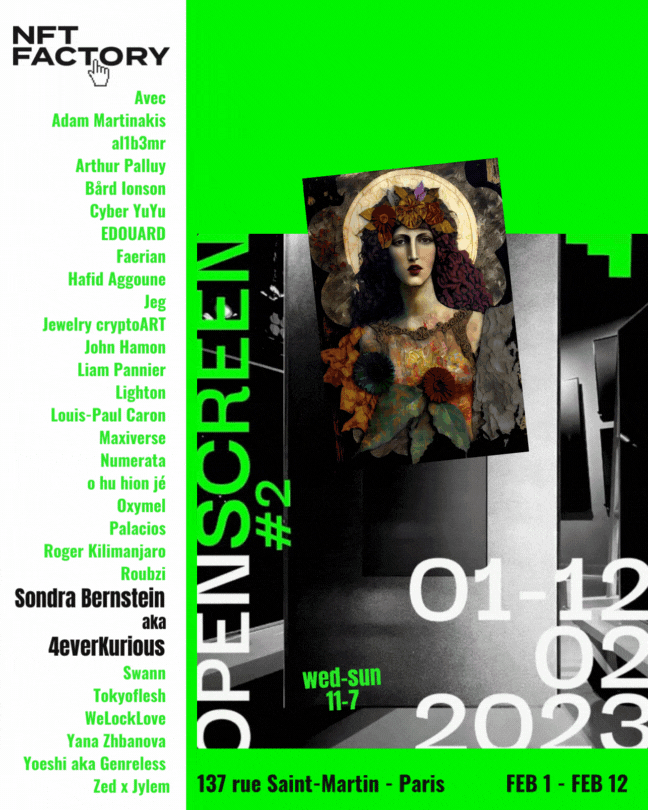 Carnival Daze
Xffel Tower at NFT Paris
The second Paris exhibit is at NFT PARIS on February 24 and 25. Not exactly sure where the actual exhibit will be (will update when I find out), but so honored to be included with some of my SearchLight colleagues. My works inspired by everything Paris. Invitational curated by GRIDA from IHAM Gallery. Collaborations using Photoshop, AI, Glitch processes and other tech tools.
The exhibit is called Xffel Tower. The creative brief for the exhibit is described below.
The iconic display of NFT Paris, "Xffel Tower," is a digital rendition of the Eiffel Tower. a representation of Paris created as a work of blockchain art in honor of NFT Paris. Additionally, this program discusses the coexistence of local and crypto cultures.
The artist creates their art tower using a digital frame construction that represents the Eiffel Tower. Every hour, there is a new solo display by an artist at "Xffel Tower." The screens in the room at a given moment are entirely made up of artwork by one artist, unlike a normal group show when various works are presented on each screen.
It is the first display to split by time instead of area (frame). As a consequence, the conference increased the distinct universe of one artist's work, which cannot be seen in the group show, and it was set up so that spectators could concentrate on the world of the artist's work for a brief period of time.
The titles for these in order are Eiffel Glow, Speed of Light and Light and Speed.
You can also visit these items on my website here. The following two pieces are a collaboration project with my friend Kilsy. I sent her a few of my BirdLand Ladies in Waiting and she animated them. Collaboration is a common thing in crypto/digital art.
Josephine - BirdLand Glitch
Isabella - BirdLand Glitch
Au Revoir!!